Current Mood:

creative
http://chavelaque.blogspot.com/2013/05/a-breakdown-on-breaking-down-manuscript.html
There's
a new Narrative Breakdown up at the website
-- this time on Revision Techniques (Part I), as James and I talk through a few of my favorite methods of figuring out what you want your book to do, what it IS doing, and how it can be made to do all of that better. If you've read
Second Sight
or taken any of my classes, these will not be news to you, but it might be fun to listen anyway. (Talking about outlining is everyone's idea of a good time, right? Right? Yay! So you'll enjoy this.)
Registration is now open at the Dakotas SCBWI website for a full Novel Writing Workshop with me, October 4-6 in Custer, South Dakota. This workshop will involve my Plot Master Class on Saturday and my intensive talks on Character and Voice on Sunday, and it's the only conference appearance I'm making the rest of this year, due to my upcoming wedding and honeymoon. Other than this, I do not plan to offer said Master Class again (online or in person) until next spring, so
here's your chance
if you want to catch it in 2013.
I will also be at
LeakyCon
in Portland June 27-30, participating in general shenanigans.
Finally, I will admit to using my blog as commonplace book and diary as much as means of transmitting information, and as such, I've made a habit of recording my running times here to track my progress through the years. Now I have a nice new personal best to note: The Brooklyn Half-Marathon, May 18, 2013, 1:59:28 -- with a personal best 10K in there too, at 56:39. Woo! I never get over the pleasurable strangeness of me, a longtime Enemy of All Things Exercise and In Particular Running, being able to do multiple miles in a single bound. (Or many bounds, really. You get the idea.)


During the week, I try to follow a similar schedule to the kiddos'. Since I'm having them spend time in reading/writing/math and music, I'll do the same. Maybe I'll actually learn something about the guitar this summer (or maybe I'll just play around on the piano, like I did last summer). I'll definitely use the reading/math/writing time to both read and write (well, let's hope). We'll also be outside for part of each day, playing tennis or basketball or going on a hike. Just like a school day, we stop around 3-ish, and they get 'free' time. ;) It worked pretty well last year, so I'm excited to spend time with them again.

We don't have any weekend plans (yet), though we are heading to Glenwood Springs to visit some caves (E is very excited -- her 'passion' project was on caves) and take a cool hike near there.

So, for any of you who also have charge of kiddos during the summer break, what types of things do you do to keep everyone busy and relatively happy? :)
It's a misty, quiet morning (isn't that a song?), and I finished up all my school responsibilities (until the last day, which is one week from today) yesterday. I'm not sure what to do with my time now (ha). I have a list of organizational things which need to be done around the house (a loooong list). The kiddos and I talked about our plans for the summer (the 'schedule' we'll follow), and they're kind of excited, I think. Of course, part of the excitement is simply being on break -- yay!
By
Cynthia Leitich Smith
for
Cynsations
Laurie Boyle Crompton
is the first-time author of
Blaze
(or Love in the Time of Supervillains)
(Sourcebooks, 2013) and looks forward to the release of Adrenaline (FSG/Macmillian, 2014) and The Real Prom Queens of Westfield High (Sourcebooks, 2014).
From the promotional copy of
Blaze (or Love in the Time of Supervillains)
:
When comic-obsessed Blaze stands up to her evil ex, he posts a racy picture of her online and a battle of epic proportions ensues. Before she knows it,
Zap! Thwack! Pow!
Blaze becomes the target of intense bullying. She must learn to channel her inner-superhero if she hopes to gain the ultimate victory; rescuing herself.
Read an
excerpt of Blaze
.
How do you psyche yourself up to write, to keep writing, and to do the revision necessary to bring your manuscript to a competitive level? What, for you, are the special challenges in achieving this goal? What techniques have worked best and why?
As a debut author I'm in a unique (and extremely blessed!) position of having three books under contract with two different publishers so I have pressing deadlines all over the place.
Publisher deadlines are very effective motivators, but I still need to set my own deadlines along the way. Breaking a huge revision project into stages such as, "By Friday I will finish compiling research," or "I have two weeks to do a final manuscript read-through," makes things much more manageable.
It works well that I've always been able to convince myself that my own deadlines are 'real' which is probably helped by the fact that I'm a little bit gullible.
When I find motivation lagging I try to tune in to the inspiration that drove me to write the story in the first place. That initial spark is something that should continue to burn throughout the process.
I also try not to think about the book going public. When you write edgy YA, imagining your mother or grandmother reading your work can tend to stifle creativity. Of course, this game of pretending nobody will ever read the book grows harder as the process draws closer to publication day.
The writer's worst enemy in the late stages is a little thing called perfectionism. The final read-through can be brutal since it's the last time for making changes. It's difficult to let go and release your book into the world, but there comes a point where you just need to decide on the word you have changed back and forth with each draft and accept the fact that you won't be able to tinker with this story anymore. Then the best thing is to turn focus to the next project.
How did you go about connecting with your agent? What was your search process like? Who did you decide to sign with? What about that person and/or agency seemed like the best fit for you? What advice do you have for other writers in seeking the right agent for them?
I love talking about my wonderful agent! The day I signed with
Ammi-Joan Paquette
of the Erin Murphy Literary Agency was the day things turned around for my writing career.
Mind you, I still had a long path before getting that first publisher yes (and six months later the second one!). But I'm constantly telling writers they need the
right
agent, not necessarily the
right now
agent.
My path to publication had many twists and turns, and I know that feeling of wanting to get your polished manuscript in front of editors, like,
now
! But as tempting as it can be to jump on that first agent offer, be sure you listen to your gut before signing on the dotted line.
I learned this lesson the hard way. After working on my craft for a number of years I got my first offer from a reputable children's agent and I was thrilled. Finally, here was someone who would get my book in front of editors! I was on my way! But on my way to where? It turns out I was in for three years of heartbreak and insecurity.
That agent happens to be great for some people and we split on the best of terms, but looking back it should've happened much sooner. I do not in any way blame that first
wrong
agent for those early manuscripts not selling, no agent sells every manuscript they take out on submission. But there were many signs along the way that we were not a good fit.
We parted ways. Within two months I had an offer from a new agent at an established agency on Blaze (then titled "Fangirl"). She seemed very nice and said all the right things, but I didn't quite feel that love that I'd heard other authors talk about. I let the offering agent know that I had a few other partials out and here is the other piece of advice I try to tell any writer who will listen: in addition to contacting those agents with partials, I also wrote to all those with queries who I hadn't heard back from, letting them know of the offer.
This actually turned into a few full requests, including one from my absolute top choice;
Ammi-Joan Paquette
. It turned out, she hadn't received my original query but she was intrigued by my book and asked to see more. As things progressed towards her offer of representation, I came to understand that agent love that other writers talk about. And I certainly feel it still.
So authors, when you get an offer take the time to contact those agents you've queried! At the worst it will save busy agents time reading a query for a book that's already spoken for. And at best, well, you just never know.
Cynsational Notes
Visit
Laurie's LiveJournal
.
Enter to win a signed copy of
Blaze
(or Love in the Time of Supervillains)
by
Laurie Boyle Crompton
(Sourcebooks, 2013) from
Cynsations at Blogger
. Author sponsored. Eligibility: North America, U.K. and Australia. Enter
here
.
Originally published at Kimberly Sabatini. You can comment here or there.
I fell in love with Katherine Longshore's writing with her debut novel GILT.
TARNISH by Viking Juvenile, is available on June 18th (Pre-order HERE) and it's even better!
GOOD READS SUMMARY
Anne Boleyn is the odd girl out. Newly arrived to the court of King Henry VIII, everything about her seems wrong, from her clothes to her manners to her witty but sharp tongue. So when the dashing poet Thomas Wyatt offers to coach her on how to shine at court–and to convince the whole court they're lovers–she accepts. Before long, Anne's popularity has soared, and even the charismatic and irresistible king takes notice. More than popularity, Anne wants a voice–but she also wants love. What began as a game becomes high stakes as Anne finds herself forced to make an impossible choice between her heart's desire and the chance to make history.
MY REVIEW
I LOVED Katherine Longshore's debut novel, GILT, and you should get excited because TARNISH is even better! The one thing that kept running through my mind as I read TARNISH, was how hard it must have been to be a woman in a man's world. To have very little, or no control of your own destiny. The thought is frightening. And yet, against the odds, Longshore gives us Anne Boleyn. She wants more. Anne has a spark and it makes me think of her as one part of a long, bright, string of lights. Anne is part of a chain of women through out history, that have helped to shape our role in the world today. But it's not just Anne. Reading TARNISH made me realize that Longshore is another light–one that continues to guide our way.
Katherine Longshore takes history and mystery and weaves it into magic. Irresistible.
ABOUT KATHERINE LONGSHORE
(Taken Directly from Katherine Longshore's Website)
I've always been a writer. I've been writing stories since I learned how to hold a pencil, asking my dad how to spell words while I worked under the bar stools at our kitchen counter.
In my teens, I fell in love with theater. I wanted to act. On the stage. I loved the hush of the crowd, the sticky odor of pancake makeup and the dusty resin of wax on the stage floor. I loved to be able to look out over the audience, the flash of glasses reflecting the stage lights. I loved to hear their laughter. But mostly, I loved losing myself in a character made of words. To make that character live and breathe. Now, that is magic.
I played bit parts (including that of a catatonic in a mental institution—my only line was a scream) and grew into bigger roles on the high school stage. I spent five summers spouting Shakespeare beneath stars and redwoods, hoping one day to play Rosalind in As You Like It.
I got an acting scholarship to a good university and went on to study acting and costume design for two years. But then I traveled on the Semester at Sea—a program on which students study on board a ship and travel around the world, visiting ten countries in one hundred days. It changed my life. I realized I didn't want to spend my entire life in a windowless black box (a theater) but in the greater world.
So I created my own major, planning to use it to be a travel writer. I spent two months traveling Europe by train. I worked for nine months for the National Oceanographic and Atmospheric Association on a research boat as a steward (making beds and washing dishes) in order to earn the money to backpack around the world. The ship went to Chile and the Antarctic, and even stopped at Easter Island—one of the most remote locations in the Pacific Ocean. After so long at sea, I needed time on land, so I packed up my sister and her puppy in a beaten-down station wagon and drove across North America.
And then I packed a single bag and flew to Africa. Alone. I spent five months in southern Africa—South Africa, Botswana, Namibia, Malawi, Zambia, but primarily Zimbabwe. I saw elephants and rhinos and kudu, was woken up from a dead sleep in a tent by the roar of lions and sat for hours on the banks of the Zambezi watching Victoria Falls. I spent the rest of that year in Southeast Asia—mostly eating coconut curry. After a few restless months at home, I traveled to Australia and New Zealand and completely depleted my travel fund.
And then I went to England, invited by an Englishman I'd met in Zimbabwe. I went for two weeks and stayed for six months—I left the day before my visa expired—and the next year I married him.
I lived in England for five years, in a little town in the county of Kent. I lived within spitting distance of Hever Castle—Anne Boleyn's childhood home. Penshurst Place, once owned by the Duke of Buckingham and Knole House, once owned by King Henry VIII himself were also nearby. I grew to love the English countryside—so different from the forests and volcanic mountains of California. And I came to love English history—so much more violent and colorful and ancient than my own.
In the course of my life, I've worked as a dishwasher, lingerie seller, coffee barista, cake decorator, ship's steward, video rental clerk, freelance journalist, travel agent, waitress, contracts manager, bookseller and Montessori preschool teacher.
But in writing for teens, I've finally found my calling.
And through writing, I am able to encompass all my loves. Becoming a character made of words. Exploring new worlds. And living history.
YOU CAN CHECK OUT MORE GREAT BOOKANISTAS REVIEWS HERE
Elana Johson is enthralled by CROWN OF EMBERS by Rae Carson
Stasia Ward Kehoe is mesmerized by GRAVE MERCY by Robin LaFevers
Christine Fonseca  adores DEAD SILENCE by Kimberly Derting
Corrine Jackson revels in ALONG FOR THE RIDE by Sara Dessen
Katy Upperman is charmed by QUINTANA OF CHARYN by Melina Marchetta
Kimberly Sabatini is touched by TARNISH by Katherine Longshore
Lenore Appelhans  loves The Originals by Cat Patrick
What amazing women do you think has/had the spark that's helped to change the role of women in the world today?
And yesterday I told you that I had a BIG Anniversary coming up today. I'd like to wish my wonderful, amazing husband, John a Happy 20th Anniversary today.
I love you more today than yesterday. <3
Hayden was the only freshman on the varsity team. It had been his goal since beginning the sport and he worked hard to make it happen, so I am really proud of how much of himself he dedicated to making his dream a reality.
He went undefeated through the entire season and came in third in the region. His third place was a bit of a disappointment because he came in behind two boys he'd beaten handily in the regular season, but he was terribly sick the day of competition and I know that didn't work in his favor. Hayden had to play his consolation match to determine 3rd and 4th place immediately after his first loss which had come after several long, hard matches. This next round proved to be even more challenging. Hayden and his opponent went back and forth for at least 8 rounds during the second set tie-breaker. Had Hayden won it, he would have been finished, but he ended up losing the tie-breaker which meant he had to start a third set to determine the winner.
I've never felt worse for him than I did at that moment. Sick and exhausted I could see on his face that he was devastated by the thought of having to play at minimum, another 6 games. I called him over to pep-talk him and he was on the verge of tears. For Hayden, who is a master of the even-temper, this was a sign that he was at a really at a low point. I gave him my best words of advice, but I know he wasn't really listening because he was upset and could tell that I was too. I let him go and then reached out to him the best way I knew how - via text!
It sounds silly, but with that 18 feet of space between us, I knew that Hayden would be able the "hear" my words much better. I told him that I knew what he had to do was hard but that he had no choice but to go in there and do it. I told him I knew he could and I knew he would. And he did. He came back with a vengeance and soundly beat his opponent for the 3rd place win. He worked so hard and pushed through his feelings and his discomfort and I couldn't have been prouder of him than if he'd won the whole thing. I told him so.
Tonight his tough spirit was recognized and rewarded. His coach and his teammates all made it clear that they respected Hayden's attitude and effort. For a 14-year old kid competing among 17 & 18-year old "men", that's pretty impressive. Hayden has big goals set for himself for the next three years and I'm excited to see him go after them. I know he'll work as hard as he can.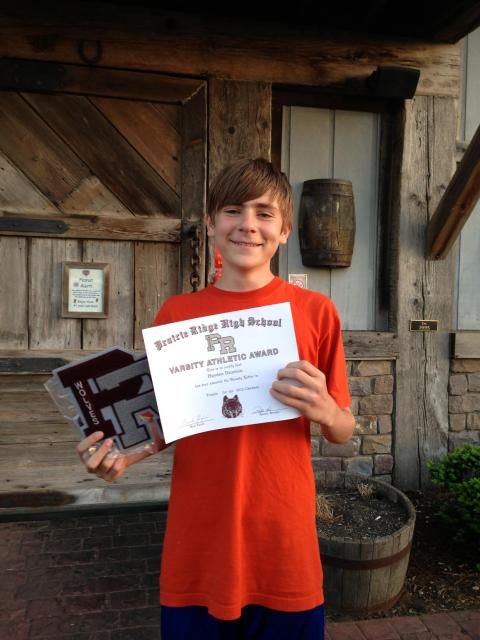 ***************************
On a side note....I was so buoyed by the fact that Hayden actually allowed me to take a photo of him that I got greedy.
I had a few cute shots of the younger three....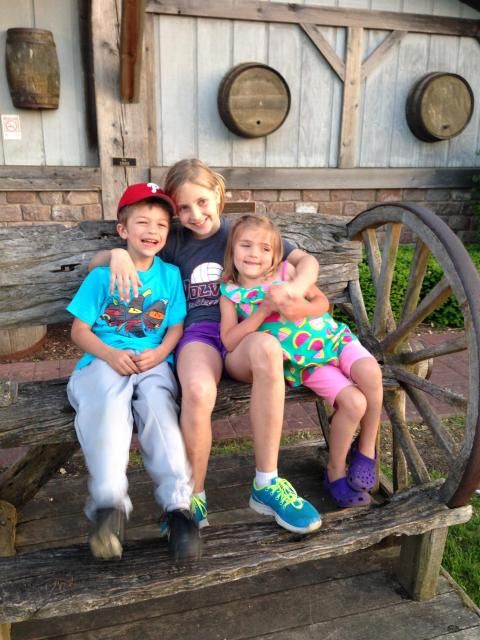 so of course I thought it would be no big deal to get all five.
Wrong.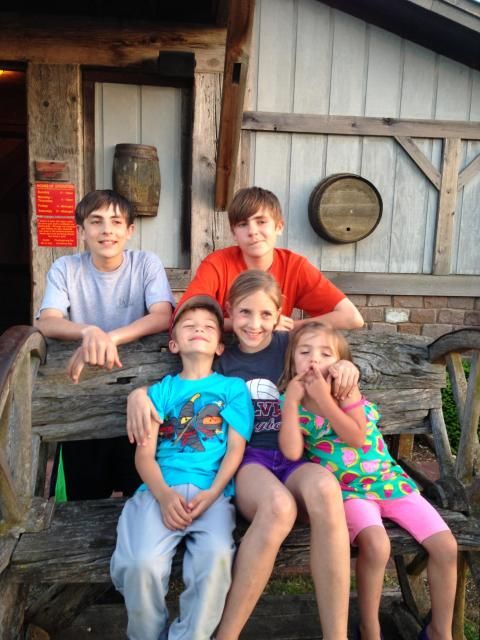 Thank goodness for Eliza. That kid can hold a pose.
Last night Hayden's tennis team celebrated a victorious season. Our high school won the conference as well as sectionals, and our top two doubles teams are headed to state this weekend.
Current Mood:

accomplished
A while ago I got this email from a teacher:
Good Morning!
I teach 10th grade English to students with learning disabilities, mild cognitive disabilities, and emotional disabilities. It is close to impossible to find a novel that all are interested in and will actually participate in discussion about. I begged and begged my director and she was able to purchase me a class set of your novel, The Compound. It's such a pleasure to teach this novel! ALL my kids listen while I read and have much to discuss, which never happens. They even groan and complain when we have to stop reading or class is over. I've even had two of my copies come up missing and two students who checked it out of the library for their parents to read. I wish I could convey to you how unusual this is! I teach the core curriculum, the same standards, as a general education class and it is very difficult for my students. They are now working on these standards and don't even realize it because they are so excited about his story. THANK YOU!
A few weeks later, I had a library event in her city and she came to see me. She was so sweet and I hugged her and offered to Skype with her students. Here's the thing: I reserve the right to charge or not charge for my Skypes. This gets me into trouble with other authors, but would you be able to get a letter like that and then not do the Skype simply because they don't have a budget? I'm not that person and I never will be. So today was the Skype. And those kids were great. They had a million questions and made me laugh, and I made them laugh too. I was so glad I took the time. And then I got this email:
Thank you so much! Of course, after we hung up they started talking a mile a minute. They're such good kids and this is the first time many of them have finished a book or even liked reading. Our system's superintendent and assistant superintendent were here also. The assistant superintendent said she'd have to get us The Fallout so that we can read both next year. I feel like I'm in the Twilight Zone!!
I can't thank you enough for the excitement you have brought to English class. This will be a lasting, good memory for my kids who have so few things to be excited about.
So yeah. That was pretty much a really good use of my time. And it reminded me of why I do what I do.
And a bit of dueling titles, dueling type, dueling genres.
At the Boardwalk
at their cute, historic library.
I put up a post about the visit.
Thirty days later, Hurricane Sandy came ashore, with what used to be the eye passing just over Brigantine, NJ, a bit to the south of Belmar. Towns to the north of the eye were walloped, including Belmar, which lost its entire 1.3 miles of boardwalk to the superstorm.
The town of Belmar started construction on its new boardwalk in January. Today, I was invited by the library to attend the grand opening of the new boardwalk - all 1.3 miles of it have been rebuilt, stronger and better than ever - and to read
At the Boardwalk
to some of the schoolkids on the beach after the ceremony was complete. (All of the school children from the public and Catholic school in town had been bused to the beach, wearing their "Tougher Than The Storm: Belmar/Belmarvelous" T-shirts.) There on the right you can see Mayor Matt Doherty, Governor Chris Christie, and Senator Bob Menendez cutting the ribbon to make it official.
I was extremely fortunate that my friend John Rowen decided to make the trek from Pennsylvania to take pictures of me during the reading. He did a really great job, and I'm just going to share a few of the photos with you below.
Here I am getting ready to read to the kindergartners on the beach. With an airhorn.
Here's me, reading to the kindergartners. You can see the ocean in the background.
Here I am again, from another angle. That's Liz Cole from Belmar Elementary holding the book.
It was a privilege and an honor to be asked to attend the grand opening of the boardwalk and to share my book with the kids from Belmar Elementary School. My thanks to the good people of Belmar, and to John Rowen, for a really wonderful day.
Some of you may remember that I went to the public library in Belmar, NJ on September 29th of last year to read
Current Mood:

good

Current Music:

Somewhere Over the Rainbow (brainradio)
Still, the writing was good. Maybe a little too good, if that makes any sense.
The sky is clotted with clouds. Rain spits. Seagulls screech. The bay is walled off by fog. In the near distance the brown hills are only a hazy presence and the noise of traffic is only a vague growl as cars pour off the freeway and follow narrower roads that branch into parking ramps, rental lots, terminals. One of them, a black sedan with a silver grill, dips underground to the arrivals area at San Francisco International Airport, but it does not stop where the other cars stop, does not pull up to the curb and pop its trunk and click on its hazard lights. Instead it slides past the rest of the traffic, around the corner, to the bend in the road bordered by concrete walls, where it slows enough for the door to open and a man with a briefcase to step out and walk away without a parting word or backward glance.

I was struck by how the sentences grew longer and longer. And the author uses such muscular verbs: clot, spit, screech, growl, branch, dip, slide.... In this book,aA coffee pot never "sits" on the counter. Instead, it's much more likely to "squat."

She lands on all fours, rolling and thudding forward, sliding across the short expanse of lawn, smearing away the snow in a ragged teardrop to reveal the green grass beneath. A tree at the edge of the lawn offers a hammer blow to her chest. Her breath is gone. Her wrist blazes as if stabbed through with a hot poker. Glass bites at her. The night seems to close upon her for a moment—and then she draws in a sucking gasp.

The only problem with using verbs in new strong ways is that they stand out. Like "glass bites." In the paragraph before, "The glass shatters, and shards of it bite at her."

Even though I didn't get into the book, I want to make my own verbs stronger.


I recently put down a huge book. One of those literary-genre hybrids. You know, about zombies or werewolves, only written by someone with an MFA. I gave it 113 pages, but it wasn't pulling me in and I have probably 150 books in various teetering TBR piles around the house.